Agartala: May 02. With an aim of boosting investment and generating employment in Tripura, the state has tested another achievement; as many as eight industrialists have signed MoUs of Rs 312.38 crores with the state government in the presence of Chief Minister Prof. Dr Manik Saha.
In this Investment Round Table (I&C) meeting around 141 investors have participated and among them, eight investors have signed MoUs of Rs 312.38 crores.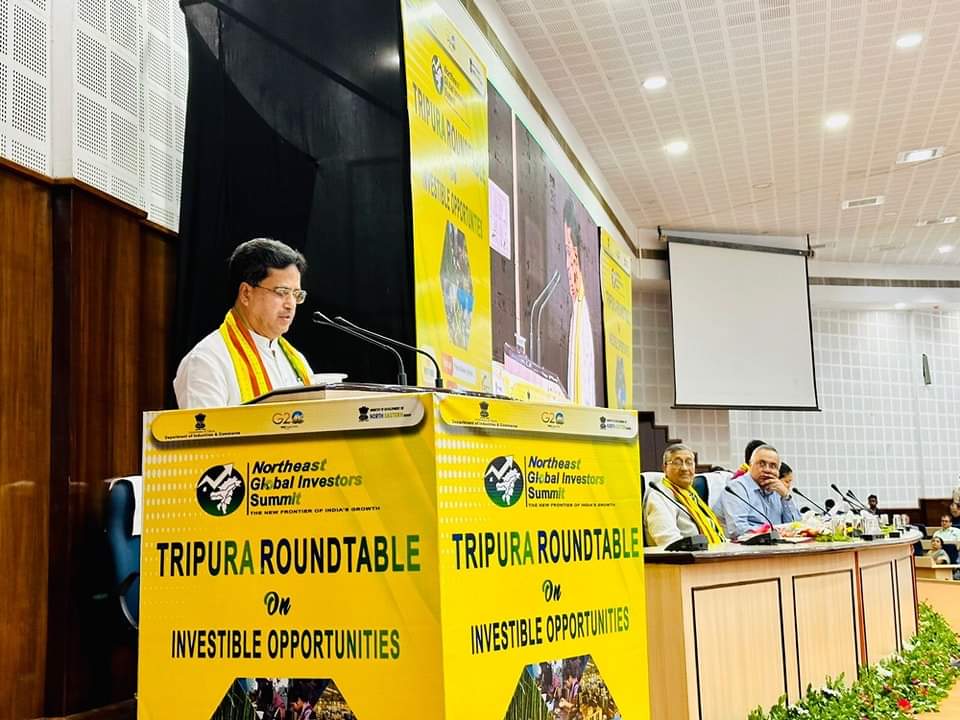 One investor named Dayton Natural Resources Private Limited has come to invest Rs 247 crores for setting up another medical college in Dhalai district under Tripura Tribal Areas Autonomous District Council (TTAADC), Northeast Veneers and Plywood would invest Rs 13.88 crores, Rs 5 crores for Operating raw materials bank to support 200 mechanized agarbatti rolling units on PPP Mode.
From hospitality, Galaxy Inn would invest Rs 4.0 crores, Chowdhury warehouse to invest Rs 3.0 crore, Rs 30.0 crore for setting up surgical gloves, in agro-processing Rs 4.0 crores, and Rs 5.50 for Milk processing.
Addressing State Level Investment Round Table (I&C) meeting in Pragya Bhavan this afternoon, Chief Minister Prof Dr Manik Saha has said that the state government has decided to provide State Capital Investment Subsidy, Industrial Promotion Subsidy, power subsidy, employment cost subsidy, state transport subsidy and etc to the investors.
"From different states of the country, they have come. I am very happy that eight industrialists have come here and already signed MoUs with the government of Tripura with an amount of Rs 312.38 crores. When I heard that they are coming here to sign the MoU, I was very much eager to see and was very happy", said CM Dr Saha.

Hailing Prime Minister Narendra Modi's special efforts in developing Tripura, Chief Minister said, "For any development of the state or country the connectivity is very important. Particularly for Tripura, connectivity is important. During our childhood, we never thought of that Tripura would have national highways. Now we have seven national highways and more highways are coming up. By the grace of our Prime Minister Narendra Modi, we are blessed that he has given us HIRA Model".
Addressing the investors, CM Dr. Saha said, "Tripura is the third strongest gateway in India in the internet facility. In Delhi, you will not get very good internet connectivity but in Tripura, the connectivity is very good. We have already 12 express trains running from Agartala or from Sabroom to different states of the country which we never imagined. All these happened because of the grace of PM Modi".
It is time to come & invest in Tripura!

Addressed the Tripura Roundtable on Investible Opportunities at Prajna Bhavan, Agartala and urged the delegates to explore the investment possibilities in Tripura.

Delighted to know about the experience of the investors who have come a… pic.twitter.com/H1MAb7NJrA

— Prof.(Dr.) Manik Saha (@DrManikSaha2) May 2, 2023
He further informed that very shortly the Maitri Setu in Sabroom will be opened and the investors would be benefitted as Tripura would be the gateway of South East Asia.
"So when Maitri Setu would be opened we have easy access to Mongla Port, Chittagong Port, and Matarbari Port. All the investors who have come here will get all the facilities. Tripura has a very good future for this infrastructure. We are ready to help you", said CM.
During the interaction, the investors praised and lauded the role of the state government and the role of Chief Minister Dr Manik Saha for Investment Friendly Policy.
Comments
comments