Agartala 31-03-23: "In order to give respect to the Indigenous people of the state and to Maharaja Bir Bikram Kishore Manikya Bahadur where it was my wish to unveil his statue in this place and also give a name to this place, the work of unveiling statue and name giving was done which makes me happy today." The Chief Minister Professor Dr Manik Saha said it as the statue of Maharaja Bir Bikram Kishore was unveiled by him and a new name " MBB Chowmuhani" was given to Sarala Chowmuhani which is beside Kaman Chowmuhani on Friday. He added that the buildings of this area are constructed as per the thought process of Maharaja Bir Bikram Kishore himself.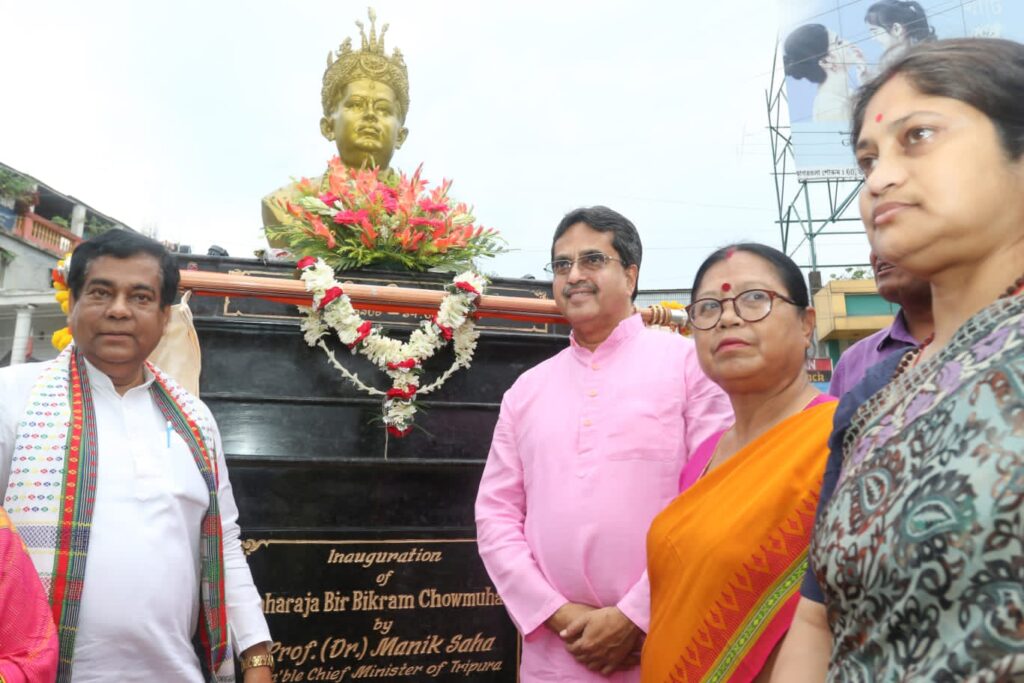 A flood drainage pump at Grandeuce Club was also inaugurated along with inauguration of three bus shelters located at U.K Academy, IGM Chowmuhani and Nandannagar virtually and all these projects were constructed by Agartala Smart City and Agartala Municipal Corporation. He also said that BJP- IPFT alliance government is making sure that all due respect is given to the indigenous people while the CPM leg government could not do the same.
There are 49 departments and a total of almost Rs 5000 crore has been allotted for the development of indigenous people in the state. The state government wants to move forward with people from different communities together but there are many who tries to play divide and rule but these things won' t be successful.
The Chief Minister Dr Manik Saha further said the BJP-IPFT alliance has proved themselves through their work and will do the same for the people of the state. He also gave the example of the peaceful election which took place this year and added that the miscreants and other parties tried their level best to create one or two issues and defame the effort of BJP- IPFT alliance government. However proper action was taken in those few places.
Lastly he added that the ruling party was confident about its second stint as they have worked for the people of the state and added that one day "40.0 which is the fortieth stint" of BJP-IPFT alliance might be seen in the state as well. The Chief Minister Professor Dr Manik Saha gave due credit to the women of the state as 3percent extra votes were casted by them and also said that G-20 Summit can be a game changer for the tourism of the state.
Comments
comments