Jampui Hill 21, November 23: In a show of unity, hundreds gathered at Jampui Hill RD Block, Vanghmun, advocating for crucial development issues. Organized by the Youth Wing of Jampui Hill Mizo Convention (YW-MC) and supported by various civil society organizations, the peaceful rally emphasized key demands. The Chief Minister received a memorandum through Block Development Officer Mr. Nabarun Chakraborty, addressing concerns such as the need for a fire station, an Aadhar cell, upgrading the Jampui PHC, resolving water scarcity, relocating a 33KV electric pole, expediting NH44A's Package 4, and addressing the arecanut market crisis.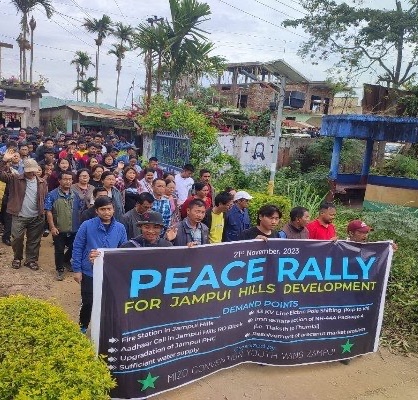 The rally, prompted by severe local crises, highlighted acute water scarcity and a recent power outage lasting five days due to cyclone Midhili. The slow progress on NH44A, essential for Mizoram connectivity, has exacerbated the situation. Furthermore, the arecanut market faces challenges, prompting leaders to seek solutions in neighboring Assam.
Amidst these concerns, longstanding demands for linguistic changes, educational enhancements, and customary law approval have added to the region's pressing issues. The community awaits the Chief Minister's response to these vital development needs.
Comments
comments