Agartala 21 November: To celebrate cultural diversity and heritage, the second edition of the "Heritage Fest" is set to take place at Swami Vivekananda Maidan in the capital city of Agartala from November 23rd to 29th. Youth from all 25 states of India, as well as representatives from Bhutan, Nepal, Indonesia, and Bangladesh, are gathering to participate in this event.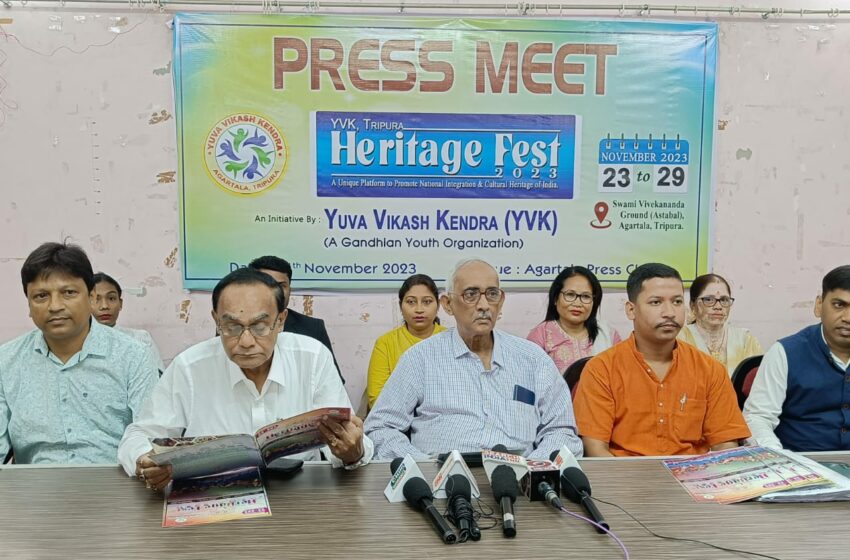 The festival will be inaugurated on the evening of November 23rd by the Chief Minister of the state, Professor Dr. Manik Saha. The event will also be attended by the Minister of Youth and Sports, Tinku Ray, and the Mayor of Agartala Municipal Corporation, Deepak Majumdar, among other dignitaries.
The initiative, organized by the Youth Development Center, aims to foster a connection between the rich cultural heritage of the state and traditional practices from around the world. The organizers emphasize the importance of showcasing Tripura's cultural heritage on both national and international platforms.
Debashish Majumdar, the convener of the Youth Development Center, stated during a press conference held on Tuesday at the Youth Development Center, "The primary objective of this event is to create a harmony between the cultural heritage of the state and the global traditions. Our goal is to establish Tripura as a cultural hub that resonates with the traditions not only within the country but also beyond its borders."
The festival is expected to feature a range of cultural performances, traditional displays, and interactive sessions, providing a platform for the exchange of ideas and practices. Additionally, a press conference organized by the Youth Development Center on Tuesday provided insights into the preparations and goals of the event.
With a diverse array of participants and a focus on cultural exchange, the Heritage Fest promises to be a vibrant and enriching experience for both locals and visitors alike. The inauguration ceremony on November 23rd marks the beginning of a week-long celebration, showcasing the unity in diversity that defines the cultural landscape of Tripura.
Comments
comments