Star Performance Restricts Central Zone Team to 182 Runs in First Innings
Bangalore, – In a thrilling Duleep Trophy match between East Zone and Central Zone, Manisankar Murasingh's exceptional bowling display left the star-studded Central Zone Team reeling. Murasingh's remarkable five-wicket haul, conceding a mere 42 runs, played a pivotal role in restricting the opposition to just 182 runs in the first innings.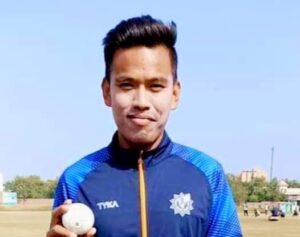 The match, held at Bangalore's prestigious cricket ground, witnessed a fierce battle between the two zones. Central Zone, boasting an impressive lineup of talented players, found themselves in trouble as Murasingh's crafty bowling demolished their batting order. The 182-run total on the scoreboard left the team in a precarious position, while East Zone emerged with a strong advantage going into the second innings.
Manisankar Murasingh's stellar performance showcased his immense skill and control over the game. With a lethal combination of accuracy, pace, and strategic variations, he posed a constant threat to the Central Zone batsmen. His ability to consistently take wickets at crucial junctures put immense pressure on the opposition and swung the momentum firmly in East Zone's favor.
Notably, Murasingh's five-wicket haul is a testament to his talent and determination. The cricket fraternity is eagerly anticipating his next moves as he continues to showcase his prowess on the national stage. His exceptional performance in the Duleep Trophy match has undoubtedly raised the bar for bowling excellence.
Comments
comments