Ambasa R.D. Block in Tripura has recently been recognized as one of the best-performing blocks in various indices and was awarded the Civil Services Award at Pragya Bhavan, Ajal. What makes this achievement even more impressive is that it was led by Munmun Debbarma, a TIPRASA woman who served as the Block Development Officer (BDO) since early 2022.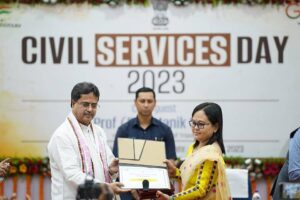 Munmun Debbarma isn't just an effective government employee yet additionally an educationist who runs a YouTube channel called "Mrs. and Mr. Debbarma" to teach Tripura's childhood about urban help. Prior to serving as BDO, she worked as a Deputy Collector and Sub-Treasury Officer at Jiraniya Sub-Divisional Magistrate's Office from 2016 to 2022. Despite her busy schedule, she has inspired many civil service aspirants in Tripura with her teachings.
The recent Civil Services Awards given by the Government of Tripura recognized Ambasa Rd as the best-performing block, highlighting the effectiveness of TIPRASA women officers in the administration of the state. This recognition also emphasizes the need for more Tipras to join the civil service and contribute to the formal bureaucracy, playing a critical role in promoting communication and development in the region.
It is essential that TIPRASA women officers, such as Munmun Debbarma, participate actively in policy formulation and implementation in Tripura to ensure that development initiatives benefit all sections of society and promote inclusivity.
Comments
comments