Delhi, Apr 24: Malaria was a menace in the state and there are two or three odd places which are prone to Malaria. However things have changed a lot when compared with 2014 when there was devastating outbreak of Malaria in the state. It is also believed that with the intensified effort we can definitely achieve Malaria elimination in line with the national timeline of Malaria Elimination by 2027 by achieving a target of zero indigenous malaria cases in Tripura." The Chief Minister Professor Dr. Manik Saha said the same during the Asia Pacific Leaders Conclave on Malaria Elimination hosted by Ministry of Health and Family Welfare, govt of India in partnership with Asia Pacific Leaders Malaria Alliance at New Delhi on Monday.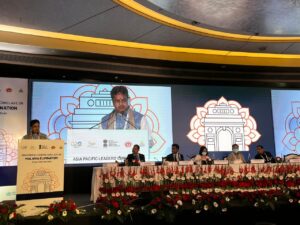 He also said that it is under the leadership of PM Narendra Modi with an all- round development of Health Sector, strengthening of Block Level Laboratory Surveillance System and up-scaling of Tertiary care level through Pradhan Mantri Ayushman Bharat Health Infrastructure Mission, the envision to the elimination of Malaria in Tripura was possible.

The Chief Minister Professor Dr. Manik Saha gave some data of what had happened earlier and added that in 2014, 51,240 persons were detected with malaria and 96 people died. The Screening for blood sample was only 6.8 % of population and sample positivity rate was 15.7 %. In 2016, 32,525 people were detected with malaria and 14 people died. Screening for blood sample was only 11.7 % of population and sample positivity rate was 7.2 %. Since 2016 screening has increased to 22.15 % of population in 2022, which is almost double than that of 2016. Number of cases came down to 12,771 cases, being 1/4th than that in 2014 and sample positivity rate came down to 0.23 % in 2022.
He also said that various strategies such as Distribution of 10.06 lakh Long Lasting Insecticide Treated Bed Nets (LLIN) in 2015-16, 1.80 Lakh in 2018-19 and 9.25 Lakh in 2019-20 was done. Another 1.80 Lakh are available and ready to be distributed in 2023-24 and 9.25 Lakh in 2024 to cover the targeted population.
As per the latest drug policy, drugs like Artemether and Lumefentrine (ACT+AL) for pf malaria are being used with primaquine for 3 days by the State. For pv malaria Chloroquine for 3 days being used and primaquine for 14 days is being used for eradication of parasite in pv malaria. The severe and complicated cases are being treated with injection Artesunate while for pregnant women Quinine Sulphate Tablet is being used orally and Quinine Injection is being used.
There are different measures like Vector control measures are being taken up in the form of Larvicidal Fish, Temephos Spray while various awareness activities are carried on all over the State with focus to endemic areas through various activities, such as the community awareness meetings, inter-sectoral convergence meetings and school awareness programs for reaching the vulnerable population and most effectively delivering the message.There are 104 Primary Health Centers, 1018 Sub Centers upgraded to Health and Wellness Centers with presence of almost one sub center in every village and 7728 ASHA Sisters in the State hence there is access to the community residing in the fur flung areas. There is support from the Government of India, Global Fund through National Vector Borne Disease Control Program, Technical Support from all the scientific organizations like ICMR hence the state is better equipped and have around 3 cases per 1000 population with a cure rate of almost 100%.
The Minister of Health and family Welfare Department, government of mizoram R. Lalthangliana Chuan Khuallian niin a hawng.a, Minister of Health and Medical Services, Republic of Fiji Dr Atonio Lalabalavu, Union Minister, Health and Family Welfare Sri Dr. Mansukh Mandaviya
The Ministers of Health and Family Welfare from Bangladesh, Malaysia, Solomon Island, Indonesia and many other dignitaries were present in this programme.
Comments
comments