In 2018 the 25 years of continuous Left Front rule came to an end and my journey as the Deputy Chief Minister in the BJP-IPFT government in Tripura began, with a sudden phone call from our the then BJP national president Sri Amit Shahji while my election was to be held 12 days later.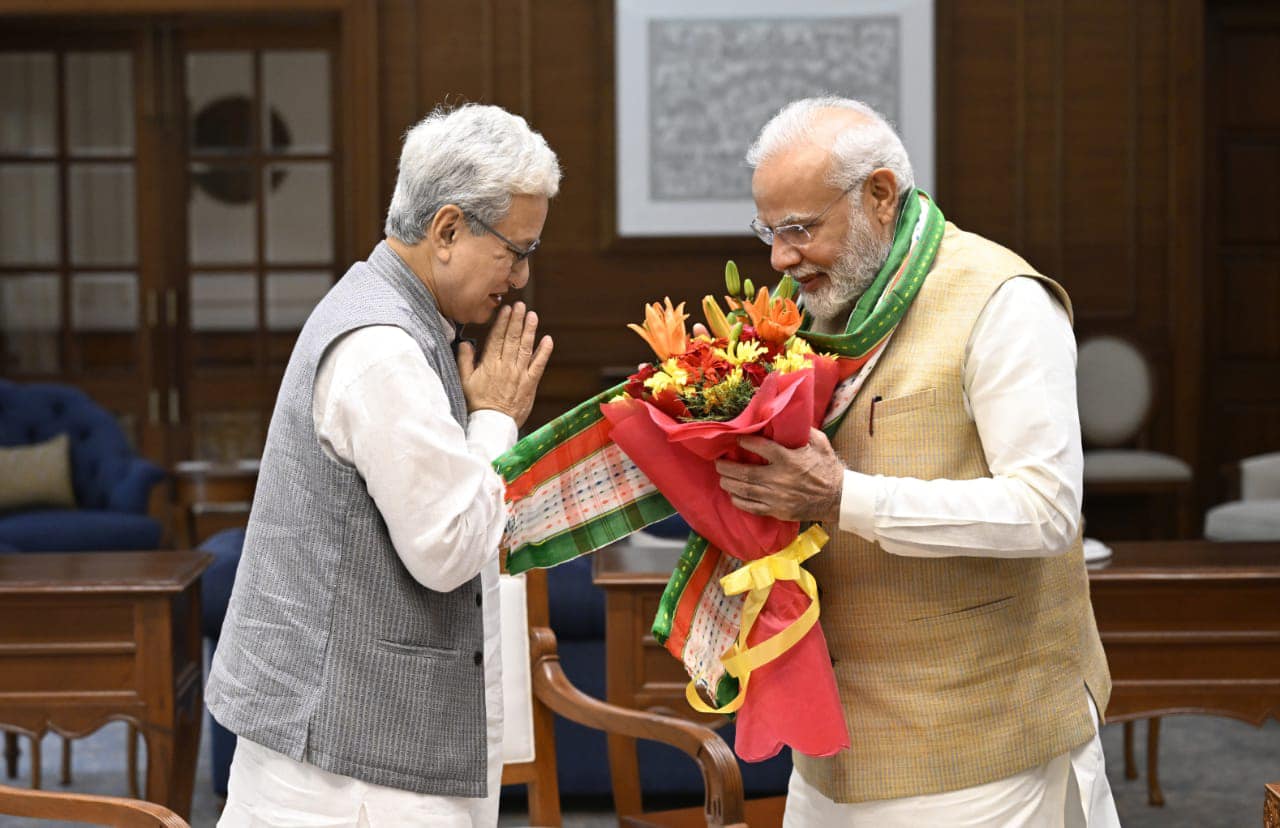 Key portfolios such as finance, Rural Development, Power, Planning and coordination later Science and Tech was entrusted on me. Being a first timer I was confounded but a challenge is always a challenge.
Now that I have not been able to get elected it gives me some time to look back; for in those five years there was no time to do so. It was just looking ahead, meeting deadlines, planning new ways to make delivery of projects to the last mile and of course getting finances to take forward the plans we had.
I recall the first power department file that came to me was of a project that was lying for 12 long years and the North Easter Council had closed it. It was about a power line from Ambasa to Gondatwisa a remote sub division that was commonly used as a punishment posting for officials. I was very upset that even after 70yrs of Independence, the previous state govt was not prioritising the these remote places mostly inhabited by indigenous people. Somehow managed to get it done in four years. It is not about success or failure; it's only about happiness that comes from making life better for others.
I found out small interventions by the govt in these remote areas could change lives. Ease of doing business is not only, about setting up industries it must also reach those marginal farmer and jhum cultivators to enable them to sell their products in the market with ease for longer hours. The Gramin Bazaar Aalok Jyoti Yojana devised by TREDA under power Dept installed solar lights in all Aspirational Block markets, Fully TTAADC blocks and other markets.
The power Dept inaugurated over 50 plus substation. It also secured assistance from Asian Dev Bank for Rs2275 cr the largest for a single project in Tripura's history. The Hon'ble Prime Minister especially sanctioned Rs80 cr to set up solar micro grids in 500 tribal villages which are unable to be grid connected , this was just before election. The Tripura Secretariat is perhaps the first in the North East to be run on Solar Power. (Work completed). Solar irrigation pumps costing Rs. 2.50 lacs at only Rs.2500/ with boring cost upto Rs 1.30 lacs borne by state govt this is nowhere in India.
The huge success of self help groups from 4000 to 43000. Rural Housing 2.35 lakhs with change of definition of " kuccha Ghar" . I had met the Hon'ble PM in Jabalpur to receive a panchayat award that is when I requested him to consider tin roofing with mud wall houses as "Kuccha Ghar" for Tripura and he graciously did .
Finance is the backbone of any government where wrong planning can ruin government activities. We now have 11 Externally Aided projects which are supported by Asian Devlopment Bank and other agencies ; earlier there were only two (Indo German and Jica) . When the Union Finamce Minister visited us, we requested her to sanction Rs1300 crore for Tribal Welfare from ADB, which she did in a matter of few hours. Many say this money has not come but money does not fly on wings; a DPR has been made and sanction obtained. The main thrust is on livelihood and connectivity.
We also passed a historic cabinet decision drafted by a team headed by me regarding TTAADC ( 125th Amendment )for its empowerment financial, administrative and political, which has became a part of our current manifesto and will surely be implemented.
As the finance minister had the honour to announce Rs2000 / social pension in the state budget to almost 4 lac families and also see it through finance.
These are not my achievements or a report card, these are just some of the opportunities that I got to make ordinary peoples lives a little better. An opportunity to give a healing touch to those living in the margins.
The officers who worked with me were sincere and often put up with my extreme impatience. I thank Hon'ble PM and our the then BJP National President Sri Amit Shahji, who went out of the way to give me this opportunity to serve my people. I also must thank all who have showered love, affection and respect for the very small things I did.
A senior leader BJP leader, who came from the RSS Late Bansilal Soniji , was our party observer in the 90s . I would chat with him on our tours together.He lived a very simple life, a life long bachelor, we had our differences – he was experienced while I was young and reckless. So once I asked him that since he was born into a wealthy family, who founded the Calcutta Stock Exchange , what made him leave home to follow this over simple life of a pracharak . He looked at me and said, "When wealth matters much less than conviction and commitment there is happiness."
I had joined BJP three decades or more years ago then many of my well wishers laughed that I had joined a party without any prospects in Tripura but today I have the last laugh looking at the other parties after this elections!!!!!!
When conviction is stronger than many other things in politics, you can afford to have the last laugh and say, " I did it my way".
Comments
comments